Wholesale Tea
Customers today are shopping with you because you offer an experience they can't get online. People visit so they can see, feel, touch, and be inspired by the products they consume. With over 159 million Americans drinking tea every day, a relationship with Open Door Tea means you can elevate that experience and increase your bottom line.

We are building a limited number of partnerships with businesses who embrace the same core values as us: Community, Quality, and Service. Our customers include cafés & restaurants, retail boutiques, grocers, spas, subscription boxes, corporate gifts, and more.

Elevate your customer's tea experience. Let's make something brewtiful together.
From Our Café to Yours
Since opening our doors in 2016 we know what it takes to run a successful brick & mortar business. We understand the challenges of juggling payroll, food costs, and administration while still trying to make a profit.

Your dedicated account representative will bring these years of experience to your business, ensuring maximum odds of on-going success. After your initial order we will provide on-boarding support and on-site training with your staff and management. And it doesn't stop there.

Be at peace knowing that you can call us anytime and we will respond with urgency. No automated phone-lines, just a cell phone number and real human beings.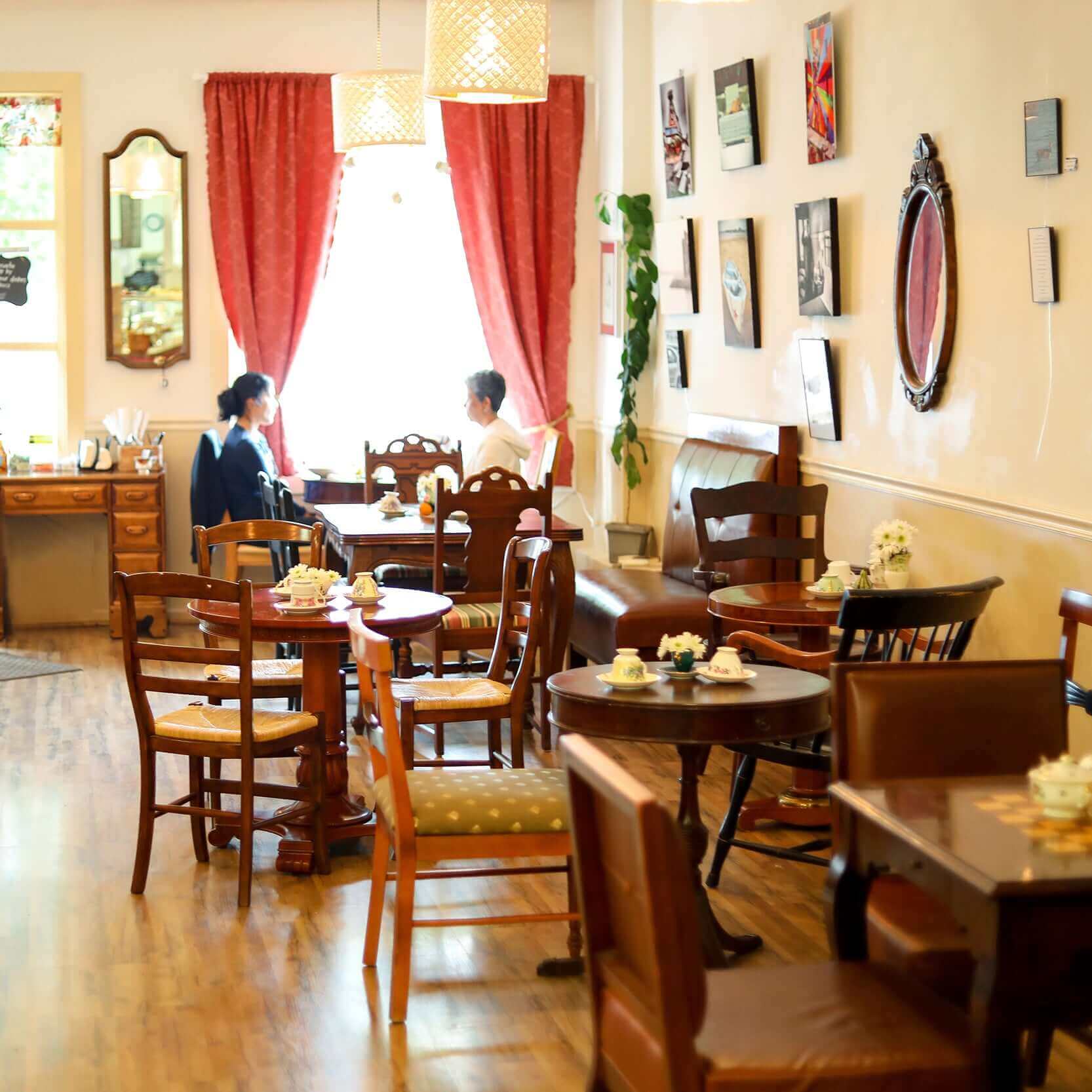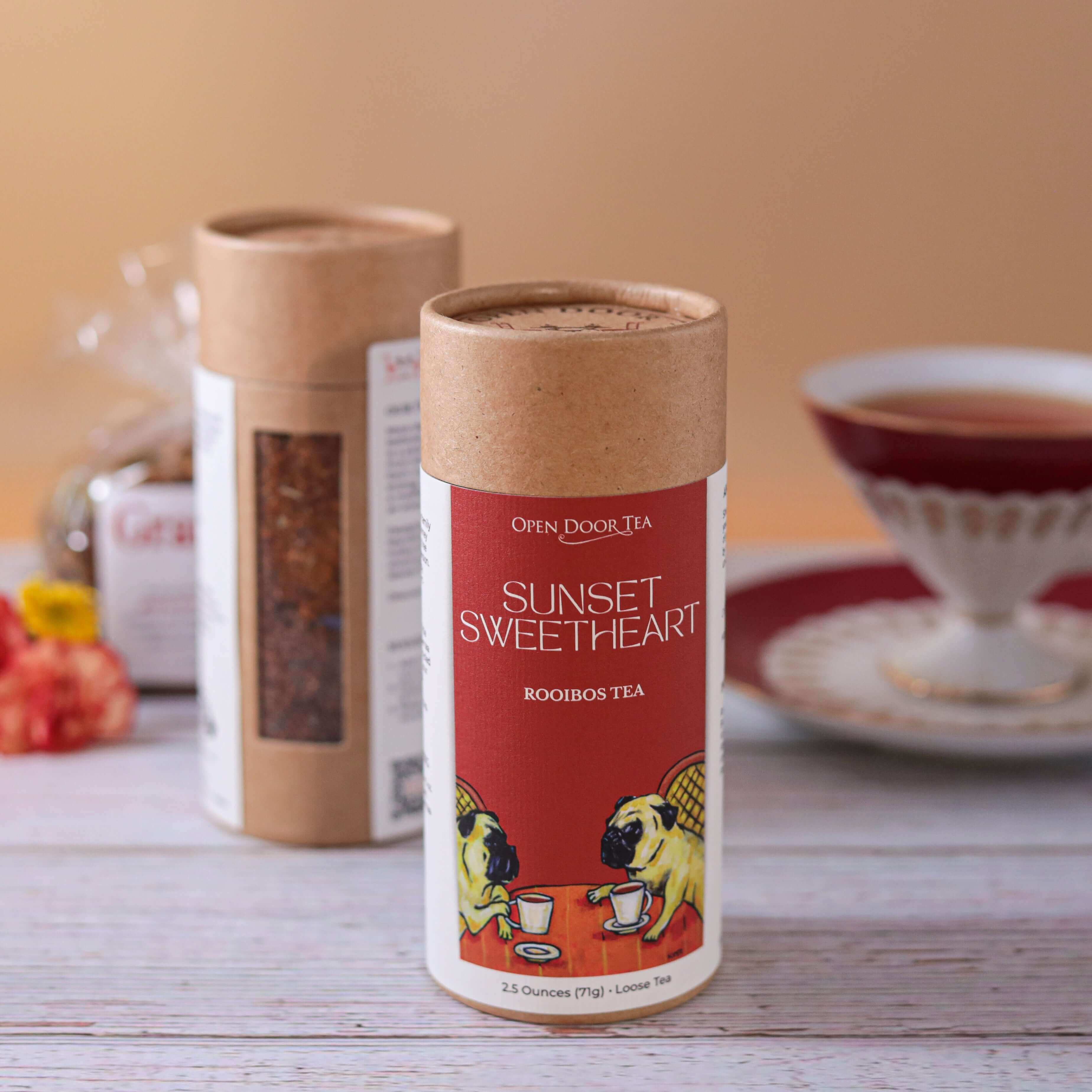 The Total Tea Package
Enjoy a huge selection of loose leaf teas to choose from, as well as teaware, gift boxes, samplers, tea accessories, iced drinks, lattee recipies, and seasonal products available.

Your customers will love the way our tea feels in their hands. Our proprietary tea tube packaging can't be found anywhere else - making it the perfect unique gift for tea drinkers everywhere.

Want to collaborate on a custom project or co-brand opportunity? Let us know - we love trying new things and get excited to change the rules. We are in this together.
Shop Small
Open Door Tea is a local Connecticut shop, women-led, that embodies the spirit of small business.

Our team (from left to right):Sarah Ambrose: Director of Café Operations Molly: Head Chef, Back of House Manager Jeannie Strain-Holst: Account Representative & Tea Educator Kasia Lindeberg: Founder & Tea Blender Dylan Lindeberg: Director of Sales & Marketing (behind the camera)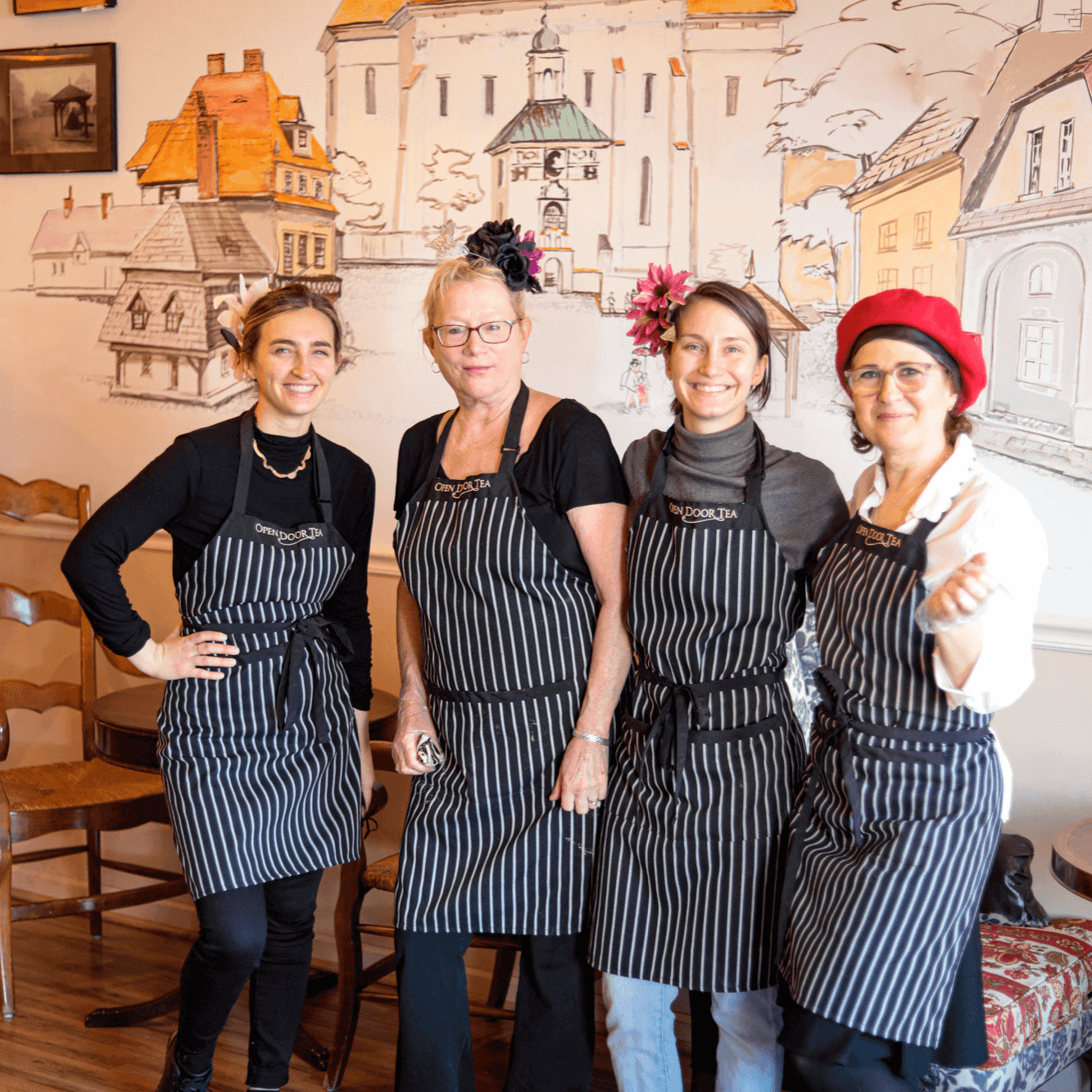 Apply Here
Fill out our wholesale application for review. Once accepted, you will have instant access to discounted pricing across our entire website to place orders at your convenience. It's that easy.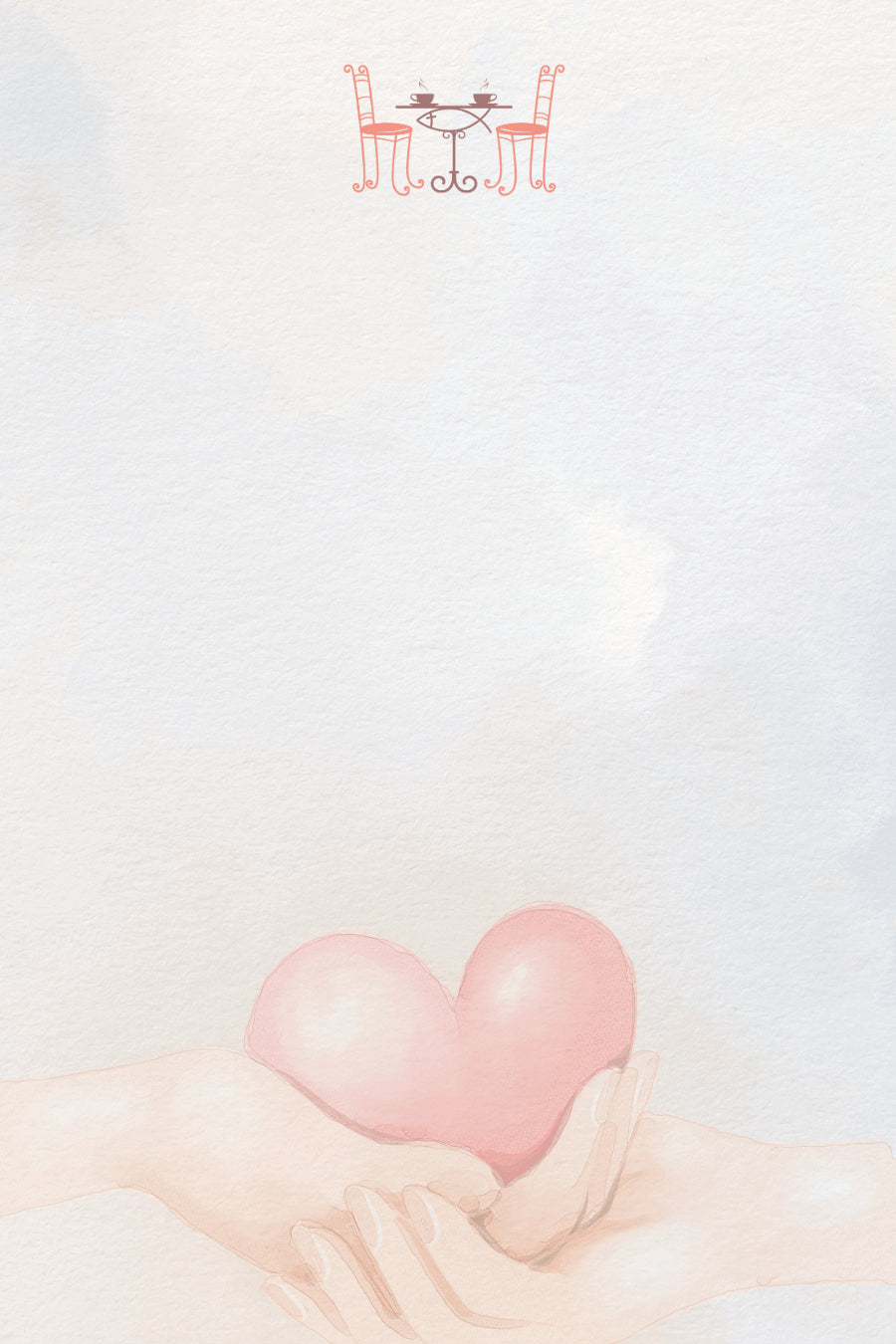 Elevate your customer experience with Open Door Tea.
Our Partners
"We love our partnership with Open Door and love ... our point person. Customers enjoy the tea very much and I feel the staff are all pretty comfortable with the product and how to serve it" - Walnut Beach Coffee House
Restaurants, Cafés, & Coffee Shops
Boost profit and build loyalty by enhancing your tea service. See how Open Door Tea can benefit your food service establishment:
Meet Customer Demand
Many customers who frequent coffee shops are also tea drinkers. By upgrading your tea offering, you can meet the demand of these customers and elevate their experience. You will slowly but surely build a reputation among tea drinkers in your market.
Enhanced Flavor over Tea Bags
Loose leaf tea has a more robust and authentic flavor compared to tea bags, which are often filled with low-quality tea dust. This enhances the overall taste and quality of the tea, which can lead to greater customer satisfaction.

It's easy to switch to loose tea, and some products (like ice tea) are already sold in tea bags for easy brewing. We have 7 years of experience selling loose leaf tea in our café and would love to share the best techniques.
Variety to Meet Your Market
Open Door Tea carries a wide variety of flavors and blends, allowing cafes to offer a diverse selection of teas to their customers. This will appeal to tea enthusiasts, often underserved, as you begin to gain a reputation in the tea community. We will work with your one-on-one to develop your custom offering, and meet with you seasonally to adjust as needed
For Health Conscious Consumers
Loose leaf tea often has greater health benefits than tea bags since it contains more antioxidants, fewer artificial flavors / additives, and less machine processing. This can appeal to a growing wave of health-conscious customers who seek out healthier drink options in their day-to-day lives.
Low Minimums, Quick Shipping
No case minimums, order 8 ounce packages (instead of just 1 lb.), and no minimum order quantity.
Quick shipping means you wont have shortages or need to plan for long lead times.

The value we give our wholesale customers on pricing and service is unmatched in the industry.
Spas & Beauty
Promote a holistic lifestyle of peace and health. Open additional revenue streams. See how Open Door Tea can enhance your spa:
Promote Relaxation
Relaxation is often the primary goal of most spa treatments and customer's expectations. Open Door Tea specializes in herbal blends crafted specifically for peace. "An Oasis in a Cup."
Add Value to a Healthy Lifestyle
Many types of tea have various health benefits, by serving tea with these properties spas can provide added value to their customers' experience and promote a healthier lifestyle.
Enhance the Overall Customer Experience
Customers appreciate the added touch of hospitality and may even associate the quality of the tea with the quality of the spa's services.
Generate Additional Revenue
Serving tea to customers while also offering retail can create additional revenue for your business. The unique tea tubes from Open Door Tea will sell themselves from your shelf.
Low Minimums, Quick Shipping
No case minimums, order 8 ounce packages (instead of just 1 lb.), and no minimum order quantity. Quick shipping means you wont have shortages or need to plan for long lead times.
Markets & Retail
Differentiate your offering and build reputation. How Open Door Tea can benefit your market, gift shop, grocery store, or other retail-based business.
Take Advantage of Increased Demand for Tea
Consumers are becoming more health-conscious and are seeking out high-quality teas with various health benefits. By carrying a selection of loose leaf teas, grocers can meet the growing demand and cater to health-conscious customers.
Differentiate Your Business
Carrying our tea can differentiate a grocer from their competitors and provide a unique selling proposition. Offering a wide range of high-quality teas can also create a sense of expertise and trust with customers, leading to increased loyalty.
Increase Profitability
Quality loose leaf tea typically comes with a higher price tag than bagged tea, which can translate into higher profits per item for grocers.
Versatility to Fit Your Market
Quality tea is versatile and can be enjoyed in various ways, such as hot or iced, and with different flavors and ingredients. This versatility can appeal to a broad customer base and increase the likelihood of repeat purchases. Your account manager continuously works with you to provide teas that match your customer demand.
Social and Environmental Responsibility
Open Door Tea is women-led and cares about social and environmental responsibility. By carrying our brand, grocers can appeal to socially conscious while demonstrating their commitment to the world around us.