Custom group gifting made easy.
Specialty Gift Programs
Tea transcends cultural boundaries. It's elegant, nearly synonymous with wellness, and budget-friendly. Select from our thoughtful and unique offerings, with customization and logo decoration options for organizations big and small.

Give a gift of peace. Contact gifting@opendoortea.com to get started.
CORPORATE GIFTS
Employee recognition and rewards programs, gift-giving for special occasions like holidays, birthdays, or work anniversaries and milestones.
WEDDINGS & SHOWERS
Show your appreciation with wellness / consumable party favors, personalized invitation gifts, and keepsakes themed to the occasion.
SPECIAL EVENTS
Make an impression at fundraisers, retreats, and ceremonies. Mail a tasty treat for birthdays, celebrations, and holidays enjoyed at home.
Charming & Hand-Made
Premium teas and hand-packaged gifts with utmost care. Browse our varied gift packaging, from cute floral patterns and satin ribbons, to elegant gift boxes and sustainable mailers. Going for a different look? Just let us know, we love exploring new concepts.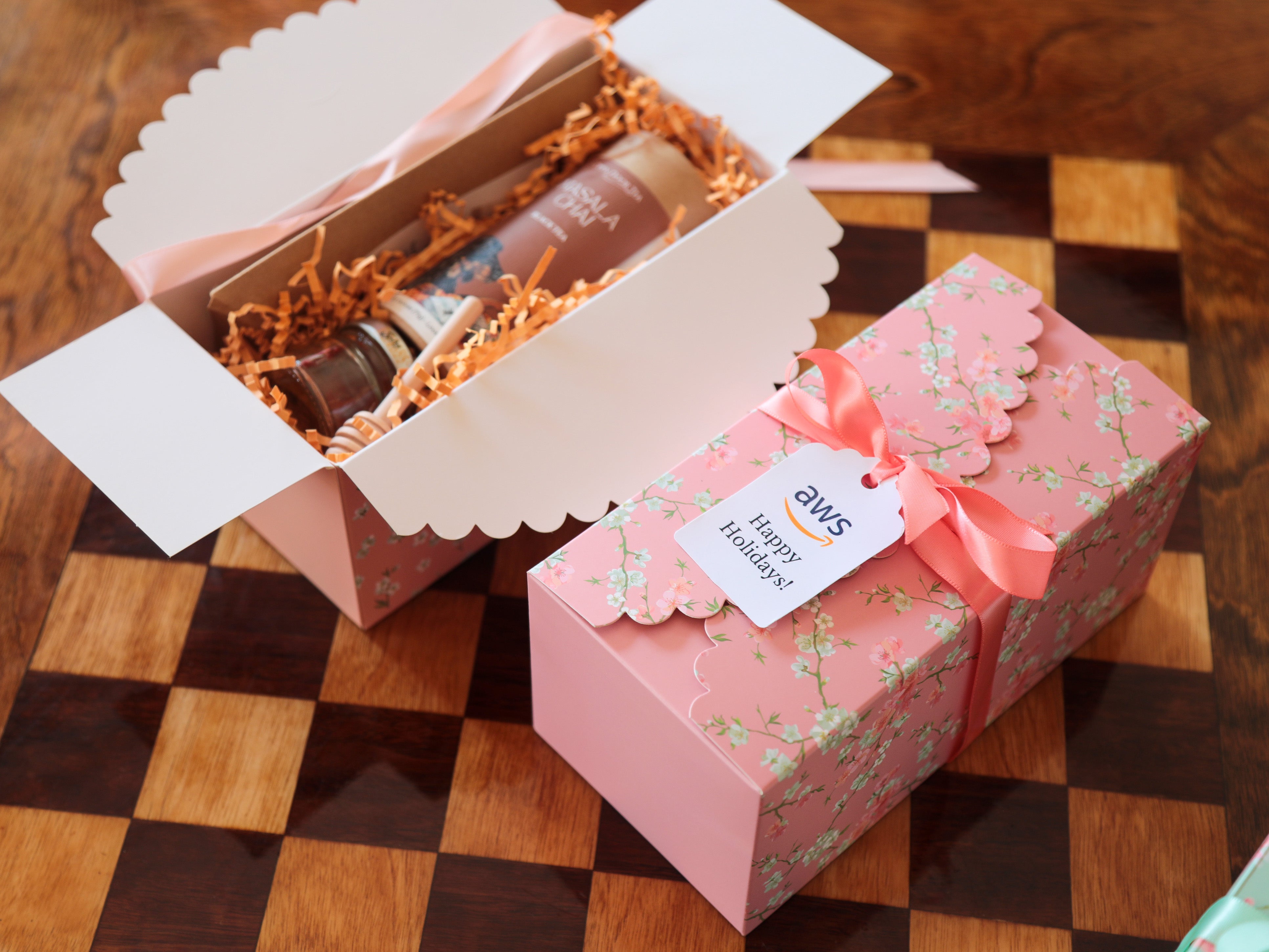 Distinctly Unique
Signature packaging and products from Open Door Tea will elevate your gifting program. Both beautiful and sustainable.

We have 100+ teas, cookies, drinkware, coffee, accessories, chocolates, and much more available - only found here.
Shop Small, Give Back
Open Door Tea is a local Connecticut tearoom, women-led, that embodies the spirit of small business. We believe business should be more than just profit-centered, and donate to a variety of causes and foundations.

You will receive the utmost personal service from our Tea Educators, helping you craft your gifts with ease and confidence.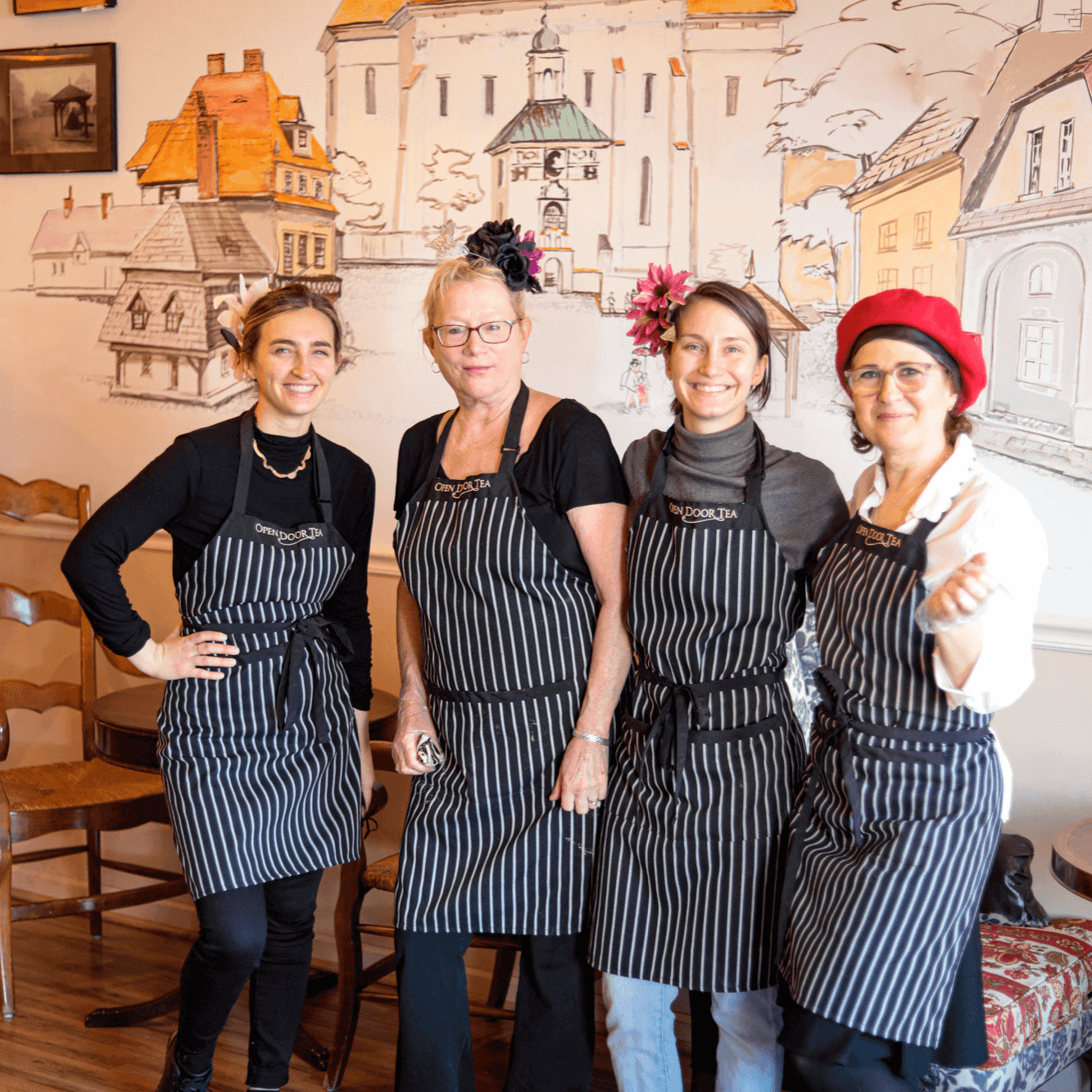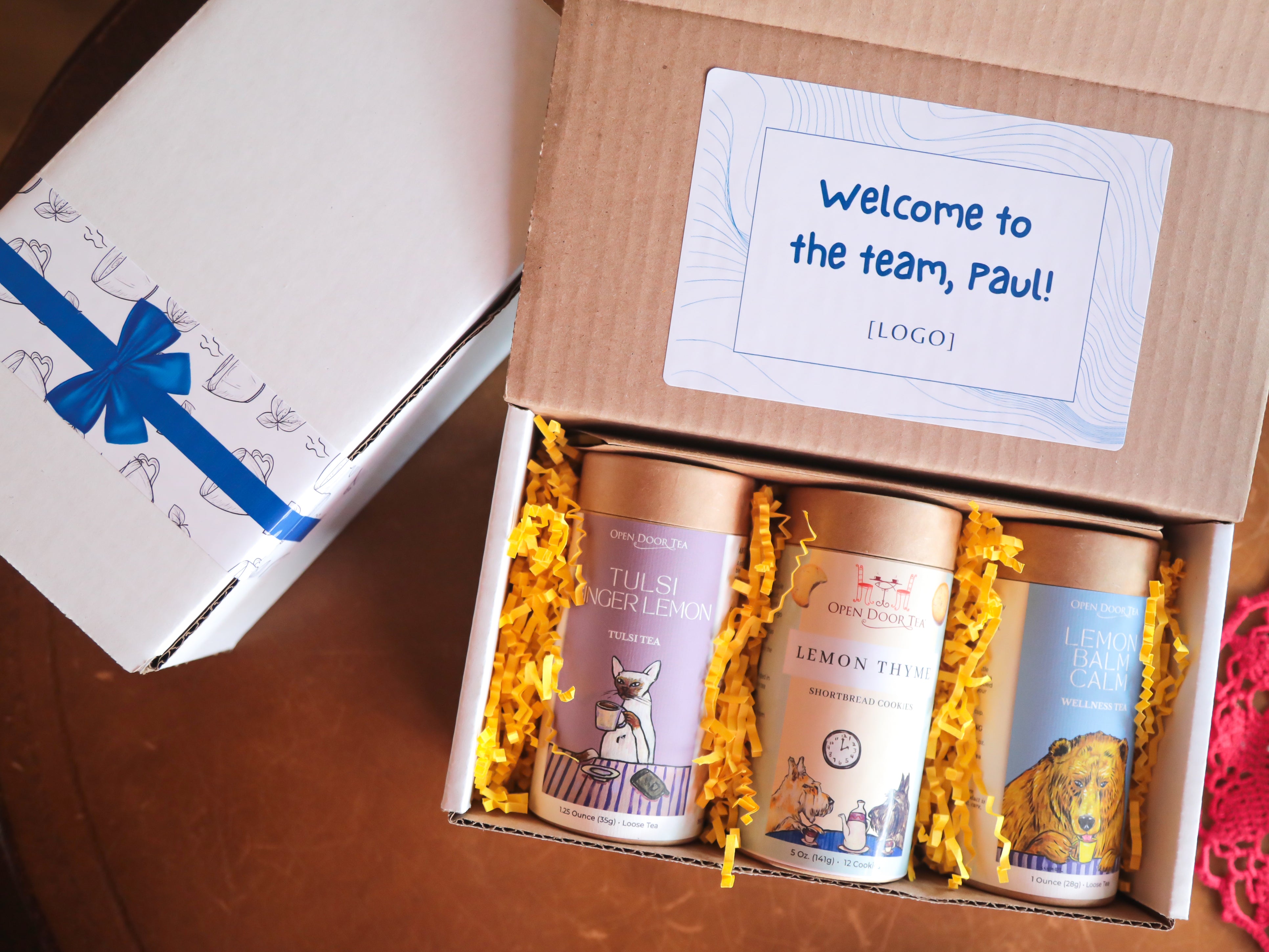 Get Inspired
Browse some of our pre-made gift sets below. Spend $250+ to receive free personalization.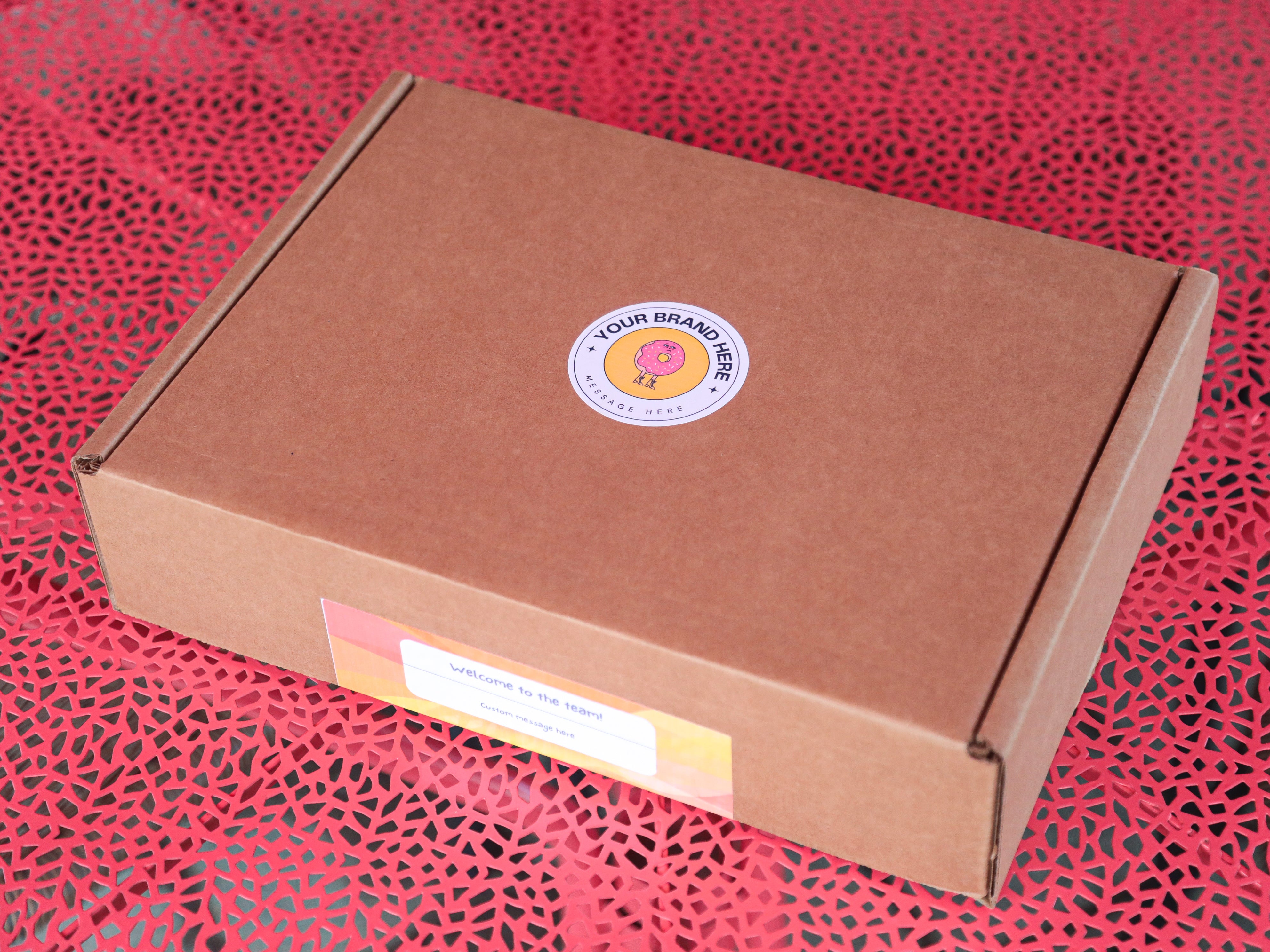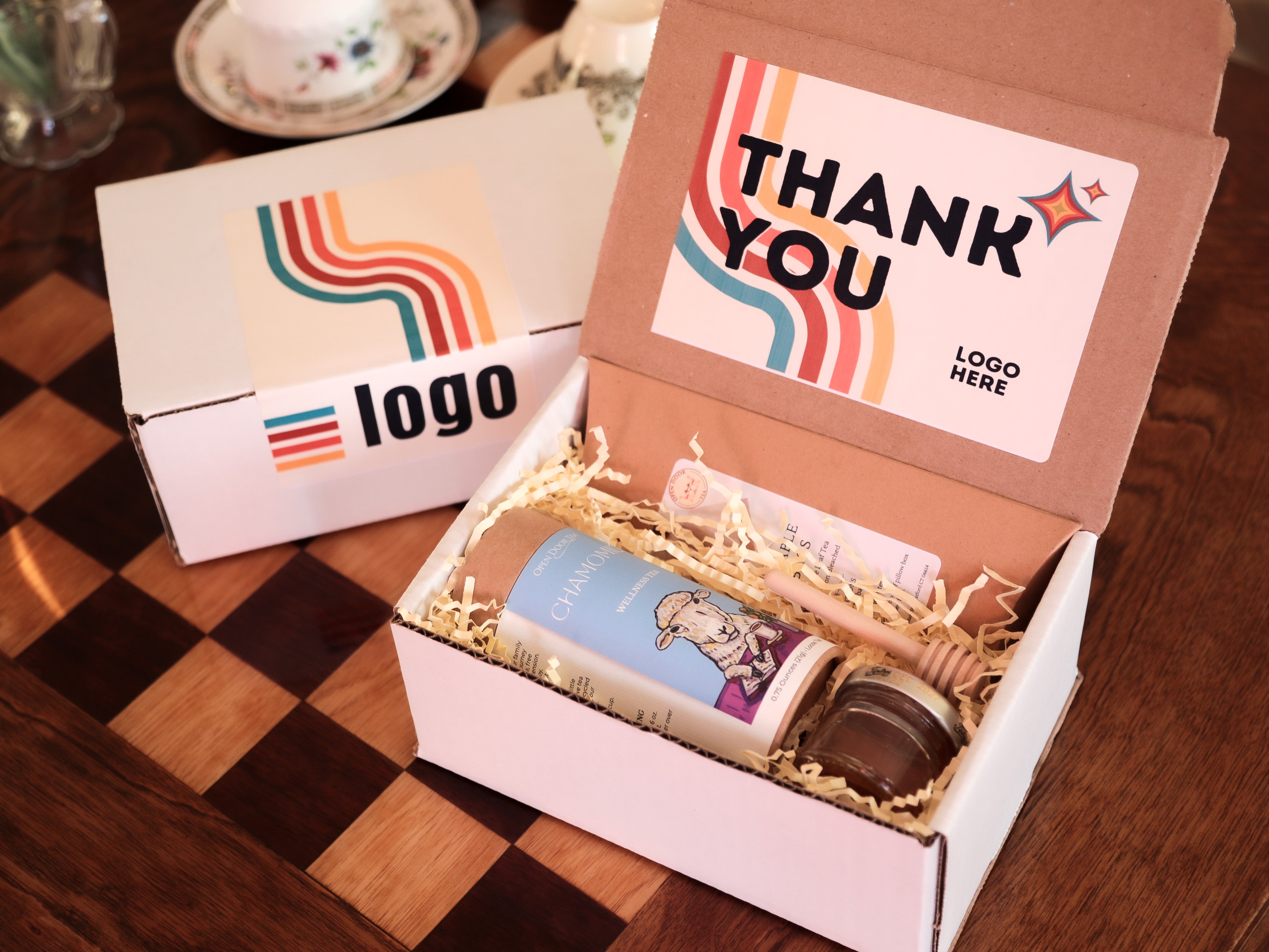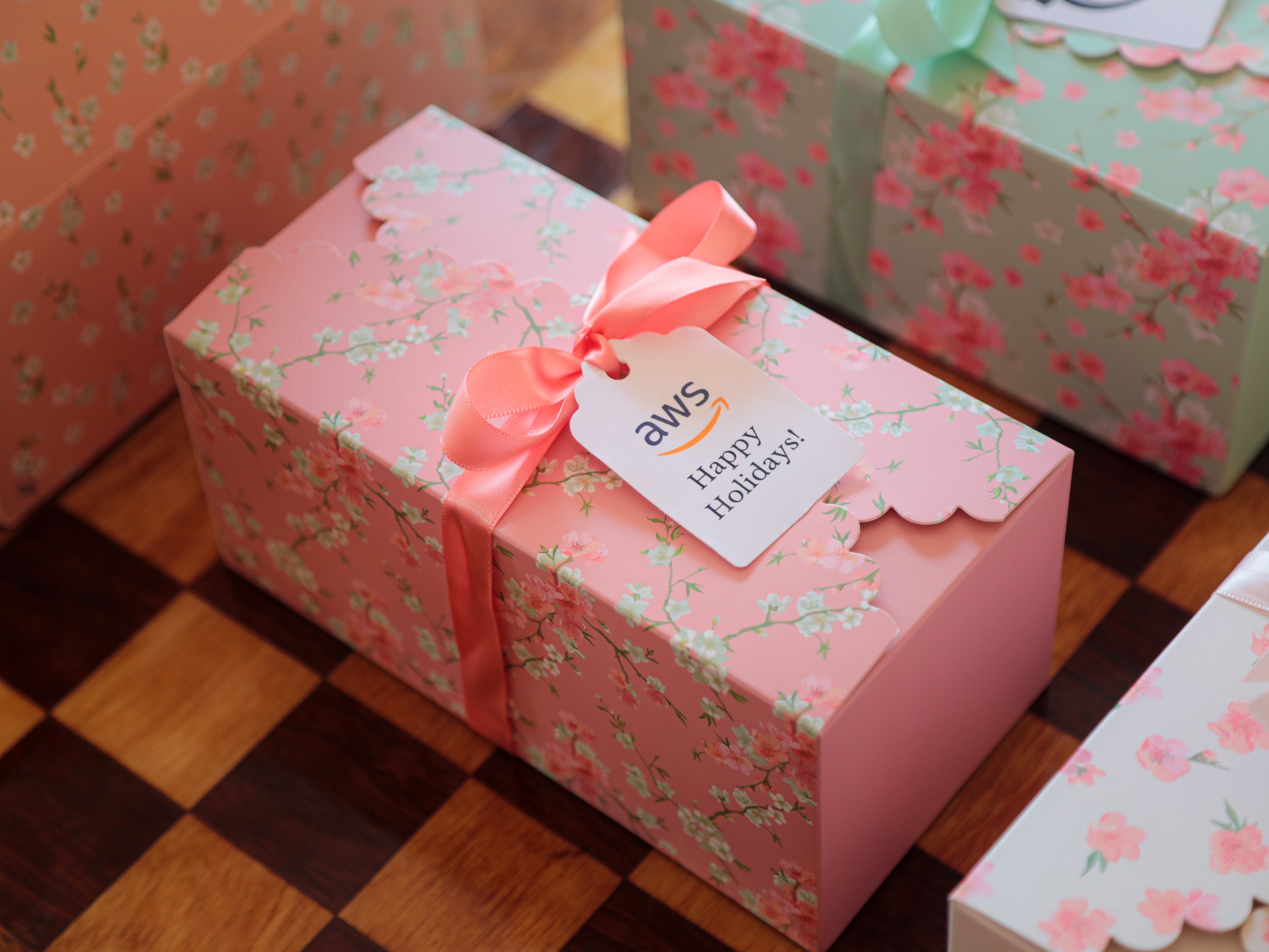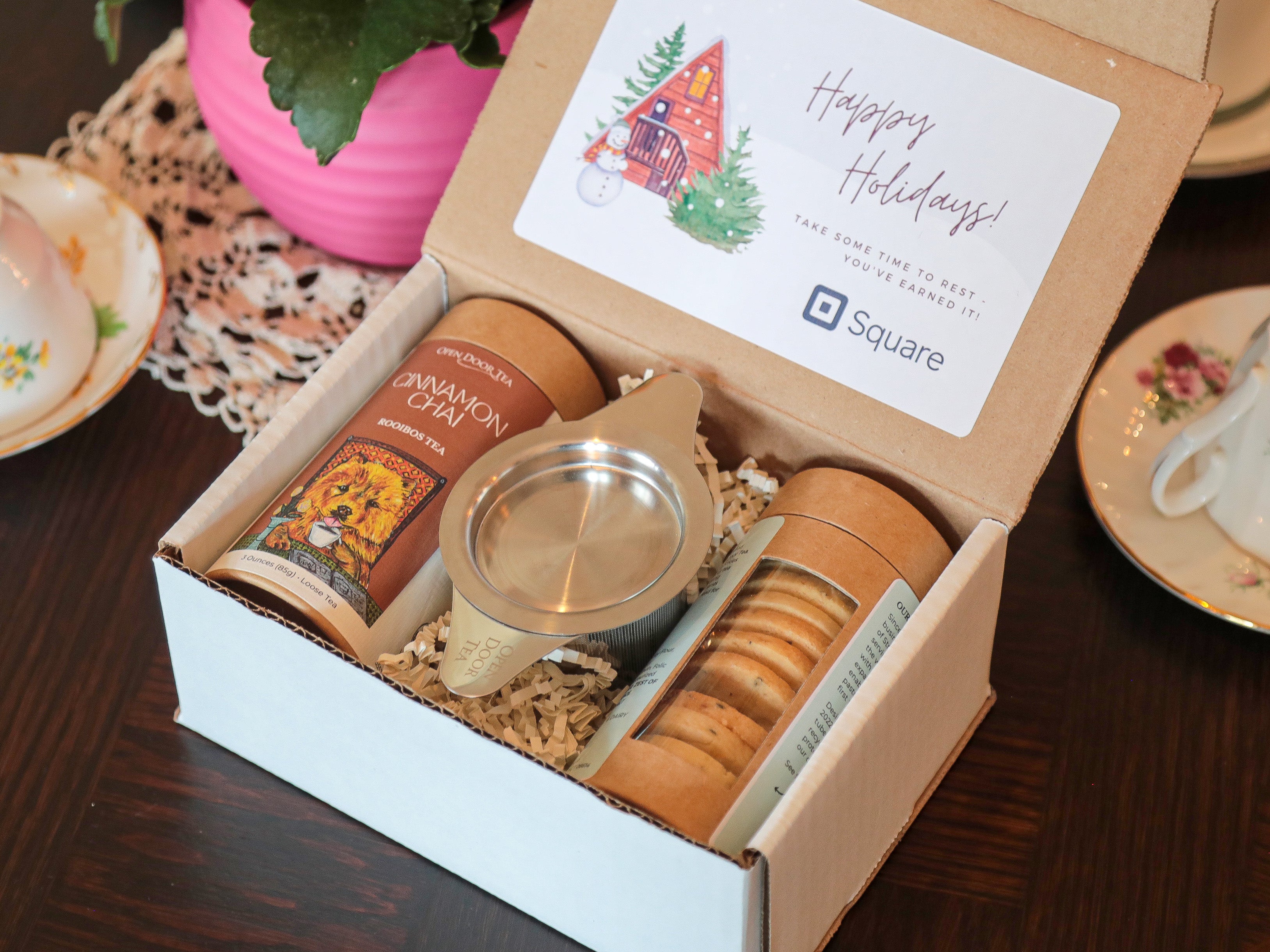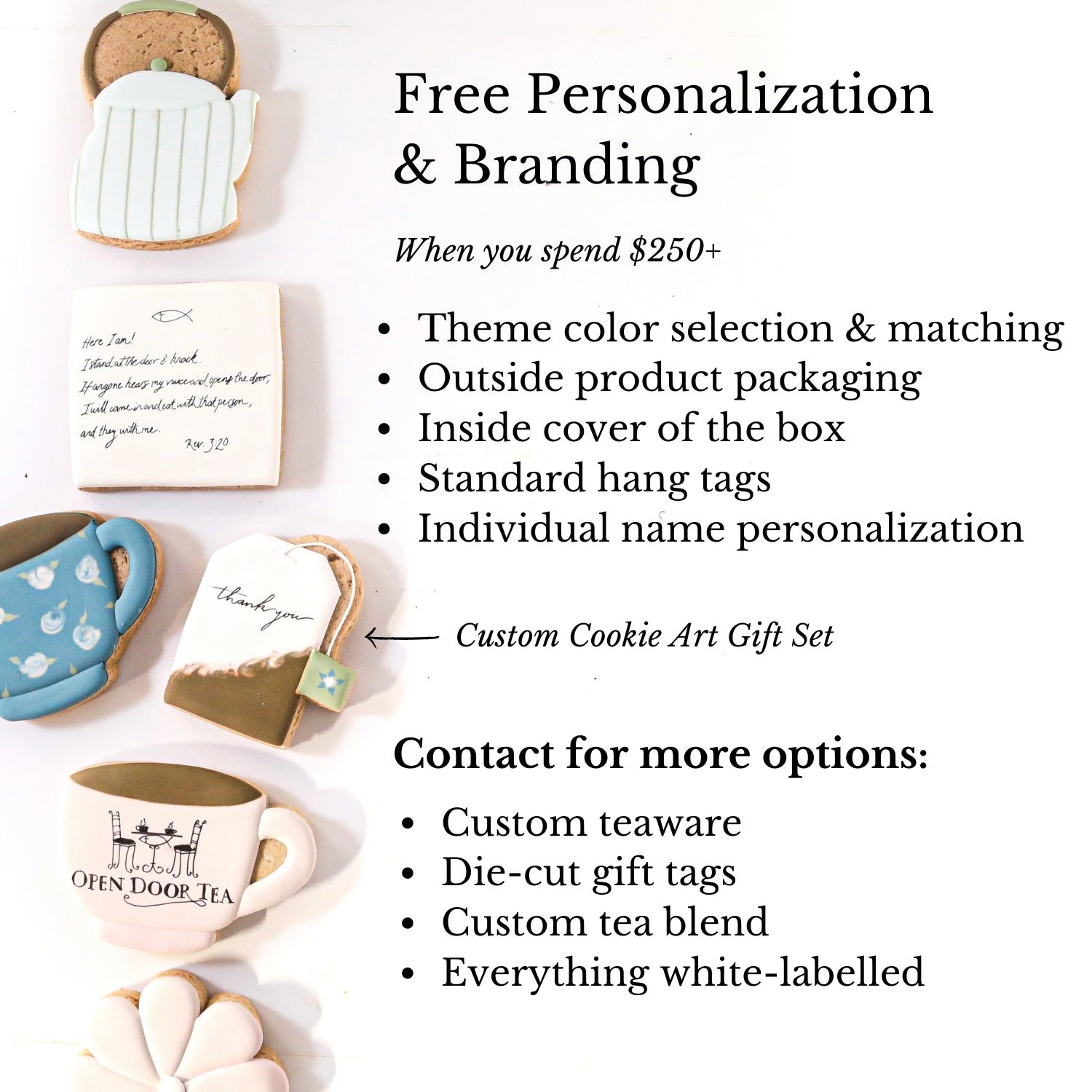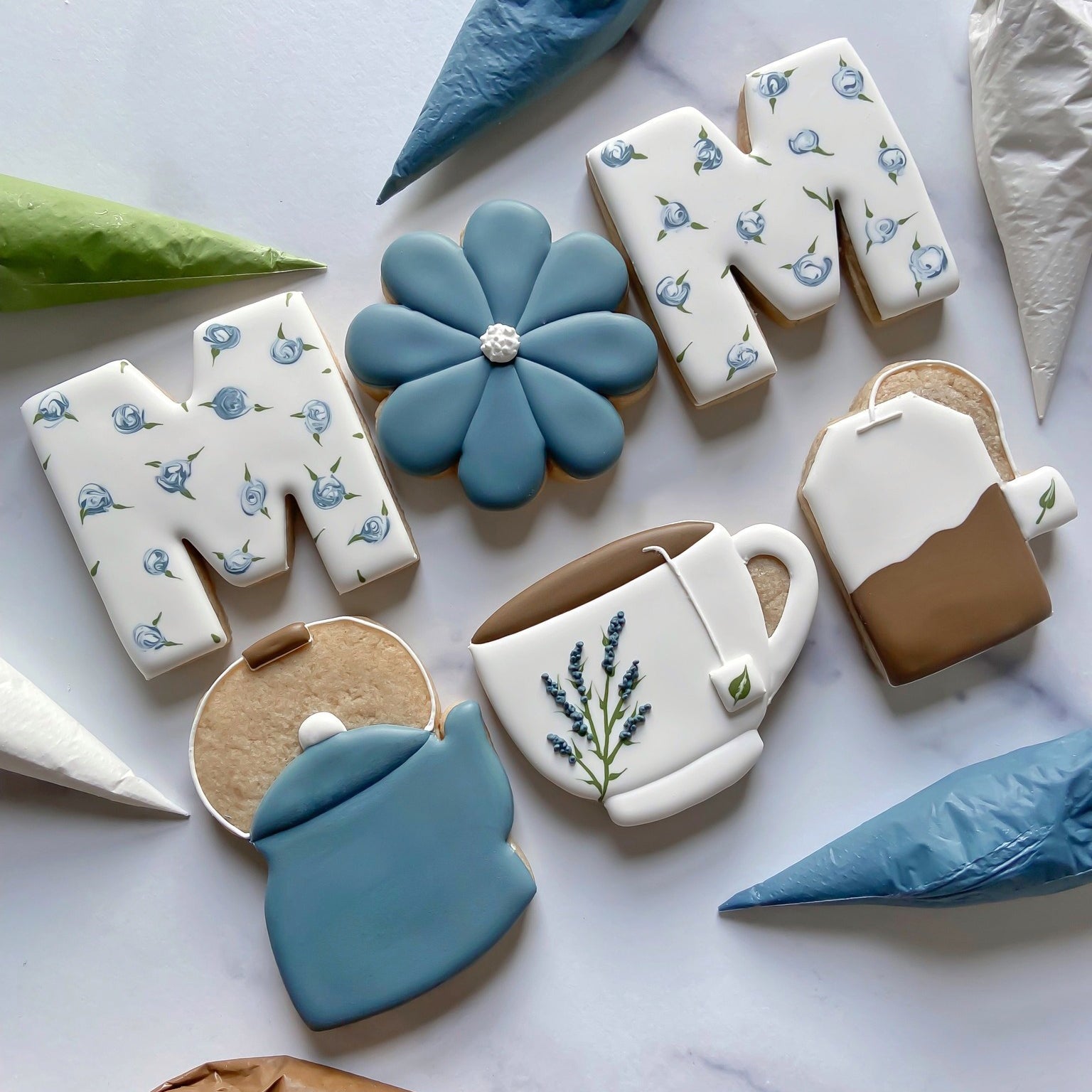 The Best Gifts are Consumed
Tea... cookies... chocolate... who can say no? Open Door Tea is the place to go.
Small Business, Highly Reputable
With Open Door Tea, you get the best of both worlds - a small business that has a personal touch , as well as a highly reputable company that has refined their process over tens of thousands of orders.
Budget Friendly
We are not a pretentious tea company. We believe that quality tea is under-served and want to tell everyone about it. Gift sets can be customized to your budget, whether that is $10/person or $100+/person. Give us a starting point, or select from one of our pre-made packages. Discounts are available for large groups.

Working directly with us, the manufacturer, means we can charge lower prices than you might find when sourcing through a distributor.
Customizable & Branded
As a small business, we are highly flexible in our offerings and customization options. We are for more eager to earn your business than a large, established conglomerate, and will work closely with you to fit our offer to your vision. We can add your branding / messaging to each package, and we have white-label options available.
Wide Variety of Unique Options
With hundreds of teas to offer we have something for everyone. Our extremely popular tea samples are a fantastic and inexpensive way to provide a wide variety that will not disappoint. Gift boxes, tea accessories, other item inserts, etc. can all be modified to match your company or event branding.
Shipping Worldwide & for Remote Teams
We can ship to a single address, or mail packages individually to employees located throughout the world. Just send us an address spreadsheet and we'll take care of the rest.
Simple Process, Dedicated Representative
Gifting made easy. Let us know your preferences and/or budget and we'll send you some packages to choose from. Your account representative (we call them Tea Educators) will help you select the best teas and accessories to fit your needs.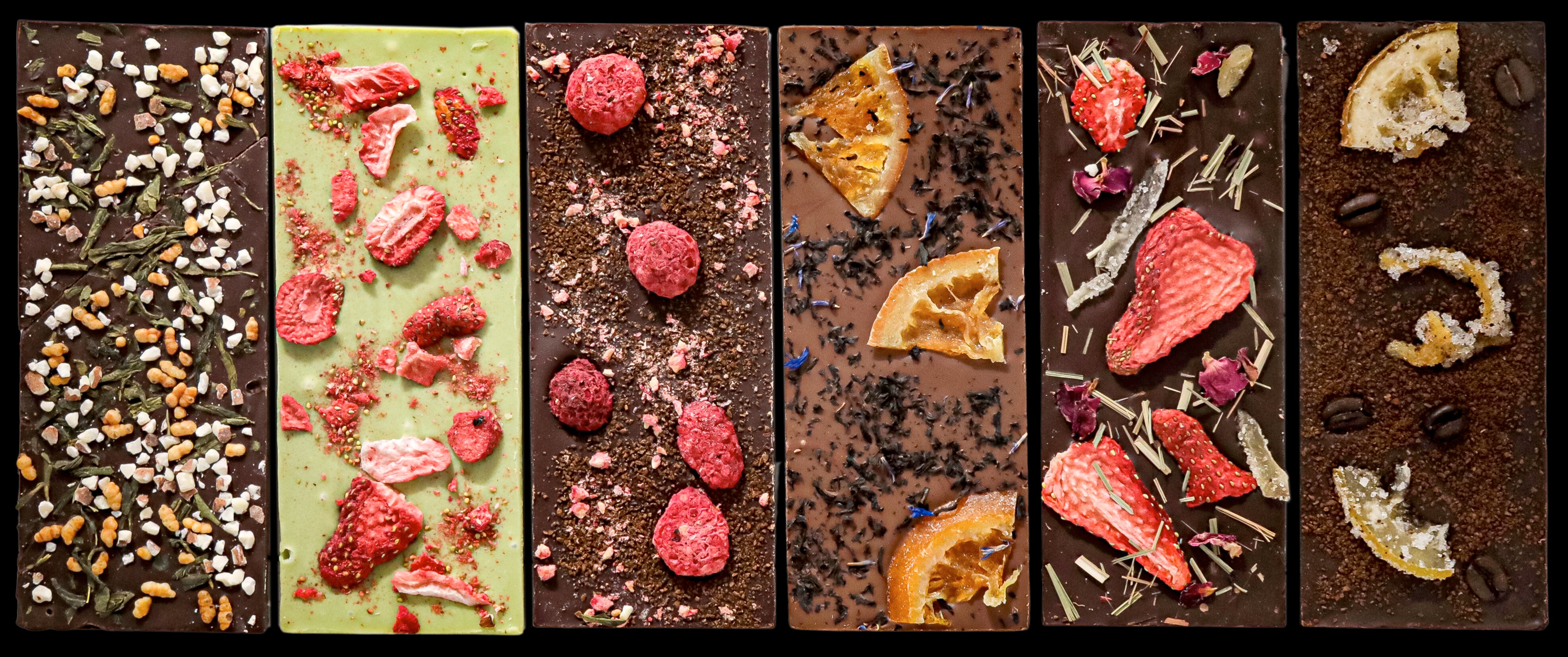 Tea ♥ Chocolate
All New, Fall 2023 Tea-chocolate bars! One-of-a-kind chocolate bars, locally made with our very own tea and coffee. Add to any gift for $7.
FAQ
Frequently Asked Questions
What is the minimum order?
The minimum order for gifting packages is just $250. Some custom package types and logo decorations can have higher minimums depending on the selected options. Non-customized gifts have no minimum.
What is your lead time?
We typically ship 2-5 business days after confirming the order details. For orders of 200-1000 people the lead time is 5-15 business days. Larger or more complicated orders may have a longer lead time (rare).

A December delivery may have a longer lead time, contact us with your requirements to confirm.
What is the cost of a gift package?
We offer several gift sets, ranging from just $5/person to $115/person. We are happy to customize to fit within your budget. Bulk discounts apply for groups 50+ . Contact us for package options.

Buying directly from us avoids expensive middle-men distributors.
What is inside the gift boxes?
We have several great pre-built packages to choose from, or you can build your own. Generally speaking everything on our website can be included, and other specialty items can be sourced on a case-by-case basis. Let us know what you desire and we'll do our best to accommodate.
Can you include custom branding / decoration?
Yes, we can include your branding and logo decoration on the package. Available options include:
Labels / stickers: these can be adhered to the packaging,
Postcard inserts: send us your design, or just your logo and message and we'll create a mockup for you.
Hang tags: an attached tag with information, branding, or an item's care directions
Belly bands: a custom band to wrap around a product or package
What is the shipping cost?
Shipping to a single address is included. For shipping to individual addresses, the cost is $5/person. International shipping cost is $25 - $80 per person.

Send us the shipping addresses or we can set up a form to collect them for you.
Can I ship to multiple addresses?
Yes of course! You can provide us a list of addresses, or we can set up an online form to collect them.
Can I white-label your gifts?
White-labelling is available for larger orders at additional cost (no Open Door Tea logos - just yours).
Get in Touch
Please fill out the form below and we'll reach out soon.