BHS Scribe - Open Door Tea Review
Posted by OPEN DOOR TEA CT ADMIN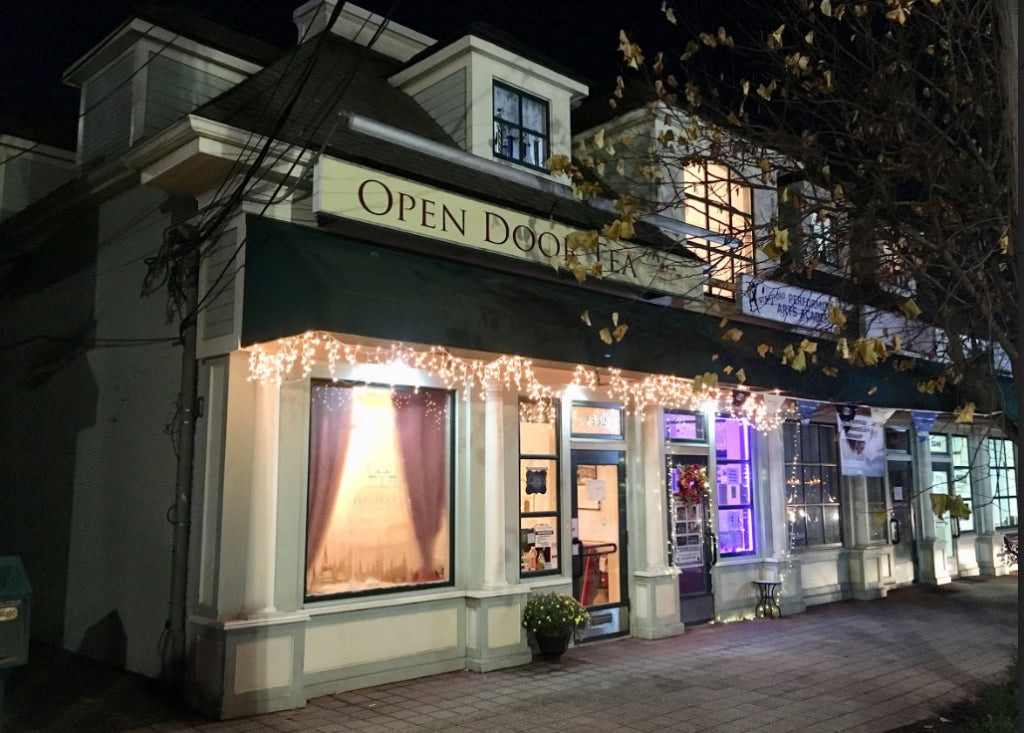 Read the original article on BHS Scribe
January 8th, 2019
Bruce Claxton
Staff Reporter

Open Door Tea in Stratford offers many variations of healthy meals which include scones, cookies, and, of course, tea. The restaurant opened in 2016 and is located in Paradise Green in Stratford next to Hong Kong Cafe. The owner, Kasia Lindeberg, opened the small business to give the Town of Stratford a local tea shop where a wide range of customers can sit down comfortably and enjoy tea and healthy meals.

Open Door Tea creates a warm and cozy atmosphere where individuals are able to feel relaxed and at ease.

The decor at the restaurant is absolutely stunning. The beautiful vintage furniture and dishes make the overall experience delightful. At night, the lighting gives off both a warm radiance and a relaxing vibe.

Moreover, on the restaurant walls, paints murals contribute to the vintage look. The teacups and plates are high quality glassware with graceful designs. All of the components of the restaurant add to the sophisticated and comforting aura.

"Open Door Tea is different from other restaurants in Stratford because all of the cups and plates have little designs, the walls are decorated with pictures and paintings, and the wooden furniture is mismatched which, in my opinion, gives it a really laid-back and home-like feel," said junior Molly Duff.

At the local tea shop, they offer a wide variety of different tea types, from Thai Chai to Green Tea Garden. Open Door Tea offers over 70 different teas in their restaurant so customers can try something new each time they visit.

"I ordered a mint medley tea. It was very soothing, and it was bursting with flavor. It is not like the tea that you make at home," said junior Caitlin Fenton.

Furthermore, the business also sells a large variety of different desserts.
There are cakes, cookies, and scones, all which are baked by staff and are put on display for diners to choose and order. Open Door Tea's menu certainly has something for everyone.

A unique fan-favorite is Open Door Tea's famous quiche, which is said to be the best quiche in Stratford.

There are many different combinations of quiches such as the bacon mozzarella cheese quiche which was bursting with flavor. With its crusty exterior and warm smooth interior, the medium-sized pie slice was big enough to fill and satisfy one person for a low price of $4.25.

Other menu items include healthy choices such as sandwiches and salads.
A popular dish is the Vegan Delight which is a smaller dish fit for either one or two people. Priced at $8.50, the meal consisted of roasted vegetables, hummus, avocado, tomatoes, slivered almonds and sunflower seeds with a touch of balsamic served on open-faced toasted multi-grain bread.

The Vegan Delight was crisp, creamy, and most importantly, fresh. All of the flavors of each ingredient came together in one tasty bite.
The meals are delicious and will not disappoint new visitors. With the stunning decor and fantastic food, what else could the amazing restaurant have to offer?
"The staff is very friendly, they are always greeting people with a smile and are very helpful. The owner of Open Door Tea is very sweet and always makes you feel welcomed," said junior Claudia Chudeki.

All of the waitresses were attentive, kind, caring and filled with positivity. Everyone who worked at Open Door Tea truly enjoy their jobs.

"While working at Open Door Tea, I get to learn so many new things. [I enjoy] working with an amazing group of girls. It is something wonderful, and it's just something I find [to be] so powerful. It's almost like working with a family…" said waitress, Hannah Orr.

The decor and the staff made the diners feel at home. Overall, everything about the restaurant was absolutely outstanding. From the welcoming decor, to the food, to the wait staff, the restaurant has a light colorful vibe, which is perfect for hanging out with friends and family or for simply taking time to enjoy a nice cup of tea.
Reviews (1 comment)
Collection 2019
Sale 70% Off
Title for image